Facts  About Tom Cruise Teeth and smile:
Thomas Cruise Mapother, popularly known as Tom Cruise is one of the most celebrated filmmaker and actor Hollywood has ever seen. His involvement with the so-called church of Scientology, failed marriages, strange romantic relationships and great acting prowess are some of the reasons why he is really popular. He also has this charming smile that has earned him the name "Ladies' man" from his colleagues.
You May Like: Did Jonathan Cheban undergone plastic surgery?
People often wonder if his smile is natural. There has been some debates as to whether the dental formula we saw years back is the same we see today when he smiles. Here, we will take a closer look at the Tom Cruise's teeth and smile  as well as other relevant dental work.
Tom Cruise Teeth With Braces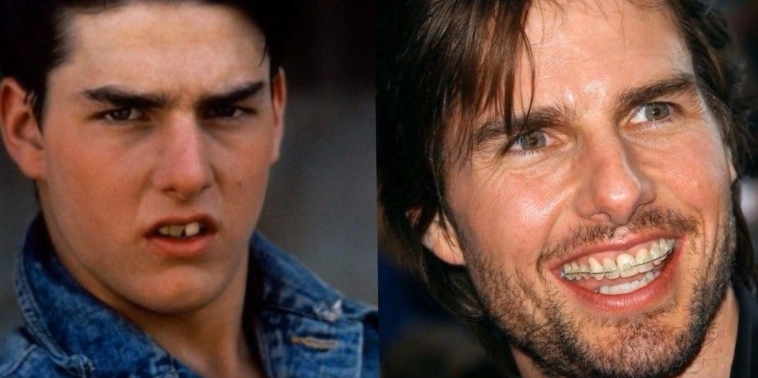 Many observers have picked out Tom Cruise's bad teeth. As a matter of fact, he once wore corrective braces. That's all gone. If your smile is considered one of the best on the planet, it is vital to fix your middle teeth.
The focus now is on his right front tooth which is in the middle and to be honest, it doesn't look bad.

Tom Cruise used to wear ceramic invisible braces back in 2002 but he was done with it even before the paparazzi could catch up.
What Is Strange About Tom Cruise Teeth?
There is a rumor that the smile we see today which has perfect display and alignment is something he requested from a cosmetic dentist. The thing is no one would remember what he looked like before acting. He initially started with procedures such as teeth straightening and whitening and these didn't cost a lot. Over the years, he has undergone more procedures, including veneers. The fact that he has such a perfect smile makes it not all that hard to believe that he has done quite a few procedures.
Evidence of Tom Cruise's Dental Work
Tom Cruise's dental formula to many seems fake and one cannot really blame those who think along that line. For one, Tom Cruise's teeth are unusually white. Natural teeth that are properly taken care of can be very white but his is rather unusual and it is even more obvious because they seem not to be in tandem with his complexion.
For people who have natural smiles, the bottoms of top front teeth should be of equal length. This isn't the same with him. Tom Cruise's two front teeth appear denser than normal teeth with an abnormal color and opacity.
A closer look reveals that the right front tooth is aligned to the centre of his face; evidence of tooth straightening. Some cosmetic dentists are of the opinion that was unfortunately overcompensated when he had his teeth shifted to the right.
Without a doubt, we can speak of Tom Cruise as one of the most successful, handsome and talented individuals in Hollywood and a great deal of this can be attribute to his seemingly dental alignment that makes his smile light up the world. He can also thank his cosmetic dentist for doing such an amazing job.
Here are some of the pictures of Tom Cruise Teeth before and after.